How to Choose a UV Flatbed Printer
11/10 2021
The continuous updating of UV flatbed printer technology, involving more and more industry fields and applications, has also promoted greater market demand. Faced with many UV printer brands and manufacturers, users often hesitate and feel confused when looking for a suitable UV flatbed printer. So, which aspects are the most important things to pay attention to when choosing a UV printer?
1. The first thing to understand is the printing speed and printing accuracy of the equipment, but the structure and stability of the equipment are often overlooked. A UV printer with stable performance has its own standards in terms of structural design, material selection, manufacturing and assembly processes, and quality testing, rather than simple assembly of parts.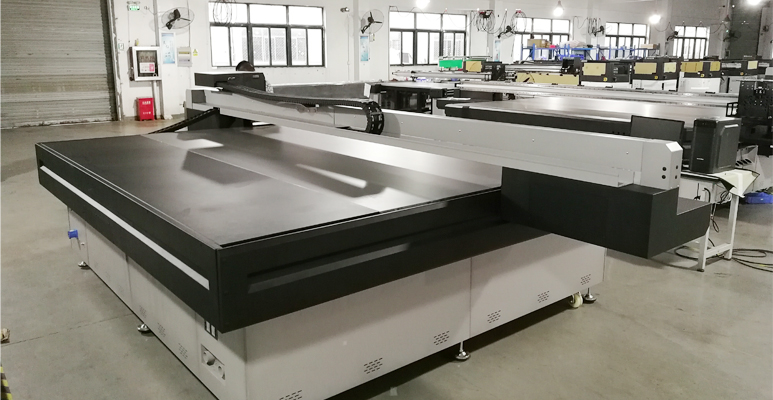 2. When purchasing a UV flatbed printer, printing speed is also called productivity as a parameter that must be paid attention to, and printing speed is the standard to meet the needs of daily production. If the capacity requirements are not high, you can choose some single-row nozzles without too much configuration. Generally, the faster the speed of the UV printer, the higher the level and quantity of print heads, of course the higher the price.
3. In addition to speed, the choice of UV flatbed printers always depends on the effect of printing and what accuracy can be achieved. To judge whether the accuracy of the UV flatbed printer is qualified, you can print small fonts and observe whether the printed fonts are clear and whether there is ghosting. If ghosting occurs, it can be judged that the quality of the machine is not very good to a certain extent, at least in terms of nozzles, inkjet control, printing trolley movement accuracy, and ink.
4. Price factors. For the purchase of all commodities, the price factor must be considered. But the price of UV flatbed printers is not necessarily as low as possible. After all, all products have a normal range of industry manufacturing costs, and once the price is far below the market average, the trickery is self-evident. The purchase of "cheap and good" equipment often lays down hidden dangers for the stability of later use and the quality of after-sales service.

5. No matter how good the machine is, there is absolutely no failure. When purchasing, it is necessary to understand the reputation of UV printer manufacturers in the market, or take a field inspection, and focus on their after-sales staffing and service response capabilities. The quality of the equipment is good, and the after-sales service is timely and reliable. This is what we should give priority to when buying a UV printer.
Zhengzhou Visual-Tex Digital Technology Co., Ltd., (Visual-Tex: www.visual-tex.com) located in Zhengzhou High-tech Industrial Development Zone, is a high-tech enterprise specializing in R & D, manufacturing, sales and after-sale service of wide-format printer and related consumables.